If you have children, the safety and wellbeing of your family must be exceptionally important. And that's a responsibility everyone should take seriously when they're a pool owner. Having the right equipment for your pool can mean the difference between a child playing safely on their own and a tragic life-changing accident.
All-Safe is a company founded to help keep children and pets safe around residential pools. Use these insights into swimming pool safety equipment to help keep your pool area secure.
Pool Fences
One of the most effective tools for increasing the safety of your pool is a pool fence. This is a tall barrier that's usually about two feet from the water's edge, meaning there's very little chance a small child or pet can get close to the pool.
Mesh fencing by All-Safe is remarkably difficult to climb, as the holes are too small to allow fingers and toes to grip easily. The tension-based system deters children from moving or releasing the fencing without adult help. The addition of a self-closing, self-latching gate will help prevent the pool from being open and accessible to kids.
Using a Pool Fence
Pool fences are also an excellent choice for swimming pool safety equipment because they're extremely customizable. Whether your fence ends at the wall of your house, a unique water feature, or with nothing at all to attach to, they'll work for your pool area.
Pool fences are very easy to use. You can choose to leave your fencing up seven days a week, but if you'd rather take it down while you swim, the process generally takes only a few minutes. This means you can ensure the safety of your pool every day, and still enjoy unobstructed pool time when you want it, quickly and easily.
Mesh pool fences also allow you to see through them into the water. This is both an added security benefit, and lets you enjoy the look of the water.
Pool Covers
The next level of swimming pool safety equipment is a pool cover. Pool covers have even more options than pool fences, and add an extra layer of security to your residential pool area. There are many things to consider when choosing the pool cover that's right for you.
Automatic Covers
The most convenient cover is, of course, an automatic one. With the push of a button or turn of a key, you can shield or reveal your pool in minutes. Our automatic covers are made of nylon fibers, meaning they're resistant to shrinking, algae growth, and damage from chlorine and fading. Automatic covers by All-Safe also feature waterproof motors and damage-resistant tracks.
Mesh Covers
If an automatic pool cover won't work for the shape or other setup of your swimming pool, another option for safety equipment is a mesh cover. A mesh pool cover uses strong, most durable mesh anchored into the pool deck to create a solid barrier between your child and the water.
Mesh pool covers keep debris and leaves out of your pool, and can hold the weight of an adult in an emergency. These covers also allow rainwater to pass through, meaning they won't get bogged down in the wet seasons. Mesh pool covers are ideal for those with seasonal pool usage, like those who winterize their pools, as they can be heavy to take on and off for daily or weekly use.
Leaf Covers
All-Safe also offers leaf pool covers, though do not use them as safety equipment unless paired with a pool net. Leaf covers and pool nets utilize the same anchors, so they're most effective when installed and used together.
Pool Nets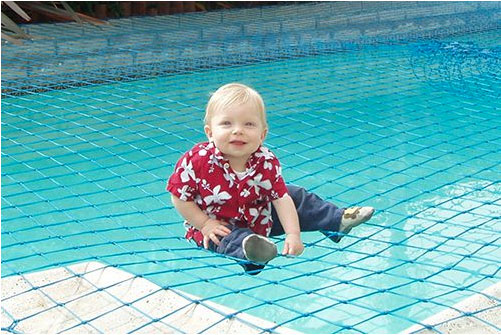 All-Safe's pool nets are made from an ultra-strong polyethylene netting and — just like our pool covers — follow the ASTM (American Society for Testing and Materials) requirements, meaning they meet or exceed industry standards. Like pool covers, pool nets are anchored to the deck around your pool, though nets alone do not prevent debris from contaminating the water.
Pool nets, as an effective piece of swimming pool safety equipment, utilize tension to keep children and pets from falling into the water. The system requires a special tool to remove the net, so out-of-reach for children, yet easy for adults to use. Removing or applying an All-Safe pool net takes about 15 minutes from start to finish.
Additionally, All-Safe is one of the only companies to install nets that are 5mm thick, meaning our nets are 30% stronger. This is available in four colors: black, tan, dark brown, and blue.
Pool Alarms
Pool alarms are a type of swimming pool safety equipment for even greater protection. Alarms should never be relied on as the only method of pool safety.
You can install an alarm for your pool fence gate or in the pool itself. An alarm on the pool gate sounds an alert if the door is opened, or left open for longer than 7 seconds. An alarm in the pool is designed to sound when the sensor is submerged or when it detects movement in the water.
Be sure your pool alarm can be heard in all areas of your house and yard. When your child or pet gains access to or falls into the pool, seconds matter. A pool alarm can be the final layer of defense to help you prevent potentially fatal accidents.
Trust All-Safe with Your Pool Needs
Whether you want a fence, a net, or an alarm, (we recommend all three!) trust All-Safe to make your pool area as secure as possible.
Contact us for a free consultation today, and your local All-Safe dealer will arrive uniformed and on-time to recommend the best swimming pool safety equipment for your needs.