Find a Local Installer
Enter your zip code to locate an independent installer in your area
Enter your zip code to locate an independent installer in your area
Inground Mesh Pool Covers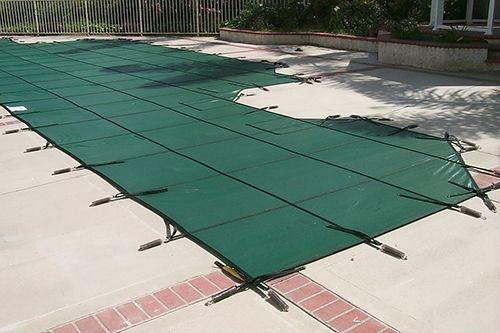 All-Safe mesh pool covers are made of the strongest, most durable mesh material specifically designed to protect your children and make your pool maintenance easier. They support up to 485 pounds of weight when needed.
Sometimes known as winter pool covers or pool safety covers, many areas of the country use our inground pool covers during the winter months to prevent debris and snow from infiltrating their pools. Rainwater will pass through the mesh fabric, but leaves and debris will stay out.
Once summer comes around, owners of mesh pool covers can remove it themselves and tuck it away for next time. For those who are lucky enough to have swimming weather year-round, these inground pool covers can still be used to provide a strong safety barrier that keeps children and pets out of the pool.
The Benefits of Mesh Inground Pool Covers
Effectively Protects Children & Pets
Strong, Durable, And walk-able
Keeps Out Leaves and Debris
A mesh pool cover is one of the most reliable options for swimming pool safety. The strength of inground pool covers primarily comes from the straps that stretch across the pool and anchor the material onto the pool deck. These straps are spaced about every three to five feet and create a strong, durable and weather-resistant mesh grid.
The mesh is practically impossible to break with your bare hands and has been seen supporting the weight of a car or even a baby elephant, though we don't recommend trying that yourself. All-Safe covers are independently tested to meet or exceed standards of safety set by the American Society for Testing and Materials (ASTM).
Start Here
Take the first step toward a new custom mesh pool cover by finding your local All-Safe dealer for a free on-site inspection & quote. A uniformed professional will schedule a time to come out to your home, take measurements, and provide a quote for the total expected cost. They'll work with you from the first estimate until the day your cover is installed to ensure your complete satisfaction. Call today!
Get A Free Quote
Once you approve the design and layout, your dealer will schedule the installation. This generally takes one day, but very large or uniquely-shaped pools may take multiple days. Once installed, your local dealer will show you how to easily remove and reapply your mesh pool fence.
And that's it! You'll be all set to enjoy your pool with the safety of your children and pets secure.
Mesh Pool Cover Gallery
Customizable and Reliable
We custom fit every mesh pool cover to the correct size and shape of your pool for optimal safety and protection. You can even choose from several different colors, including green, tan, blue, and black, to match their outdoor area. The ideal layout for an inground pool cover is one that does not have raised walls, multiple step-ups or rock formations, however, those can be addressed depending on the situation. All-Safe custom pool covers look and function best when they are flat, so pools with anything more than ladder rails, dive stands or single step-ups should be evaluated to make sure the product is the right match for your needs.
Get A Quote
Heat Retention & Evaporation
While custom pool covers are perfect for keeping unwanted leaves and debris out of your pool, they do not significantly retain heat or reduce evaporation. You will notice less evaporation and water loss with an inground pool cover, but automatic pool covers are best to reduce evaporation and preserve temperature.
Get A Quote
Purchase and Installation
All-Safe products are available through your local independent dealer. After a free onsite estimate, your dealer will help you plan your pool safety measures and what products will work and look best for your home.
The average cost for a mesh pool cover is between $2,500 and $4,500, including installation. This cost depends on where you live and the design of your swimming pool. Because we customize your pool cover, large freeform shaped pools that have different levels and obstructions will cost more than small single level rectangular pools.
Get A Quote
Estimated Time
After a local technician measures your pool area, manufacturing begins on your custom pool cover. During our busy season, this process can take four weeks or more because of the influx of custom orders, but during the off-season, this time will typically be less.
Once your inground pool cover is complete, we will ship it to your local dealer or directly to your home. Your local All-Safe dealer will set up an installation appointment to install the anchors to your pool deck, which should only take a few hours.
Once they're done, they'll show you how to remove, replace and maintain your new pool cover.
Get A Quote
Applying and Removing Your Cover
While you will learn how to remove and replace your mesh pool cover safely, most of our customers only remove and replace their covers a few times a year. Maintaining your inground pool cover does not take much work, but we do not recommend that inexperienced individuals attempt to move the mesh pool cover by themselves because the covers can be heavy.
It can take 10 to 30 minutes or more to remove an inground pool cover of average size, and larger covers can take even longer.
Get A Quote
DIY Installation
If you have experience hammer drilling and/or core drilling into concrete among other construction experience, you can likely install your inground pool cover yourself. It is important to note, however, that any drilling mistakes are expensive and not easily fixed, which is why we always recommend professional installation.
Using a professional also preserves the manufacturer's warranty. The best solution is to talk to your All-Safe dealer about your concerns and to find the best option for you.
Get A Quote
With more than 25 years of providing and installing inground pool covers, we know how to create the ideal cover for every family for the greatest results in safety and aesthetics.
Our custom pool covers are manufactured to be extremely safe with superior strength and design. Choosing mesh as your pool cover material is incredibly beneficial, as they do not collect water when it rains, they can fit pools of any size or shape. All-Safe covers provide equal parts safety and durability, unlike tarp pool covers that are held in place with bags of water.
At All-Safe, we make every product with the care and customization it needs to ensure your family's happiness and safety. If safety and debris protections are two of your top concerns, let us help you create the ideal inground pool cover for your needs.
Connect with your local dealer today to get started.
Get A Quote