Find a Local Installer
Enter your zip code to locate an independent installer in your area
Enter your zip code to locate an independent installer in your area
Swimming pool nets are essential safety barriers that prevent children and pets from falling into your swimming pool. They're easy to use, and relatively low-cost solution with a proven track record of saving the lives of children.
All-Safe's swimming pool nets have had a perfect safety record for over 25 years. They're made with ultra-strong polyethylene netting and are independently tested to hold 485 lbs. of weight, enough for a child and two adults. Learn more about what makes All-Safe nets the best available pool safety nets, or fill out the information above to connect with a local expert for your free consultation and quote.
The Benefits of Pool Safety Nets
Ultra-Strong Netting Holds 485+ lbs.
A 25-Year Perfect Safety Record
Start Here
The first step to getting a safety net for your pool is contacting your local All-Safe dealer for a free on-site inspection & quote. A professional will arrange to come to your home and measure your pool so that we can produce a swimming pool net with the perfect fit. Your local dealer will give you a free quote with the cost of materials and installation included.
Get A Free Quote
Once you approve of the plan, your dealer will schedule a day to install the anchors for your new pool safety net. Installation generally takes two to five hours. Then, your local dealer will show you how to apply and remove the net in a way that's quick, simple, and safe.
After that, you're good to go! You'll have complete peace of mind and a convenient protective covering for your pool that will protect your children and pets year after year.
Pool Net Gallery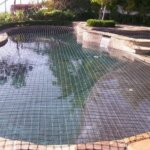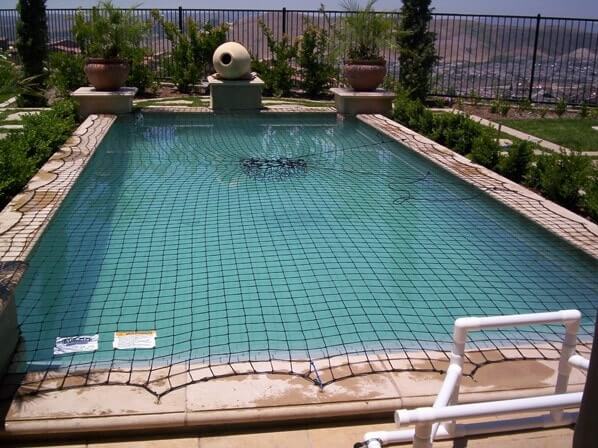 Safety should be the number one priority for pool owners. All-Safe products are life-saving safety barriers that also include pool fencing, mesh pool covers, and automatic pool covers. For many people, having a large fence or cover is not ideal, which is why our high-quality pool safety nets cover pools, spas, and other water features. Cost-effective and easy to use, swimming pool nets are one of our most popular products for pool safety.
All-Safe pool nets have 3 ½ inch openings that make it difficult for any person, especially small children, to walk or move across. If a child does happen to fall on top of the swimming pool net, the openings will be too small for their head to completely pass through. We specifically make pool nets to be lightweight and versatile so that they can be easily installed, used, and maintained. In fact, they typically take less than 15 minutes to put on or remove for most customers.
Safe And Strong
All-Safe pool nets are ASTM compliant, meaning they meet or exceed industry standards for strength and durability. ASTM independent testing and certification requires that pool safety nets can hold the weight of a child and two adults, totaling 485 pounds.
During installation, a local All-Safe dealer will anchor the swimming pool net to the sides of your pool and apply tension with a central system or a round loop tool. With our system, no child will be able to easily alter this tension or freely remove the net unless they are properly taught to do so.
Get A Quote
See how it works! Watch this video
Daily Use Made Easy
The last thing parents want to worry about is spending hours taking the net for their pool on or off to enjoy a relaxing swim. With our easy-to-use system, typical pool nets can be easily removed in about 10 minutes or less and reapplied in around 15 minutes. For spas, it takes even less time. Most spa owners remove their pool safety nets in under 5 minutes and it may take as little as 7 minutes to reattach them.
Use With a Leaf Cover to Keep Out Debris
While a pool net is a great safety tool, All-Safe does not design our nets to keep debris out of the water. The net openings are 3 ½ inches wide, which will allow small debris such as leaves, dust, and dirt to fall into your pool. If this is a concern, we provide leaf covers that can be placed on top of our pool nets. Our covers are custom lightweight designs made to specifically fit the shape of your pool. A leaf cover and swimming pool net together will protect both your kids from harm and your pool from debris.
Get A Quote
A Unique Solution to a Common Problem
Pool safety is a significant universal issue, and that's why we've designed our pool safety nets to be more convenient to use than nets made by other companies. All-Safe's proprietary Titan Tool and Round Loop Tool make quick work of taking your pool net off and putting it on again.
Many of our products are made in our founding neighborhood of Orange, California. With 25 years in the business, we have nearly perfected our installation and service practices, earning an A+ rating with the Better Business Bureau and 5-star ratings on review sites like Yelp and Angie's List.
Unique Swimming Pool Net Features
All-Safe's Titan Tool – Designed and made exclusively by All-Safe, the Titan Tool is the best tool in the industry to apply tension to a central tensioning system. Available in small and large sizes, our Titan Tool has a natural motion to make working with pool nets as easy and simple as possible.
All-Safe's Round Loop Tool – Another exclusive All-Safe product, the Round Loop Tool has a two-fold purpose: Applying tension and solving tension issues like lock-off, which happens when the pool net will not release tension in a certain area. While many companies suggest that customers apply additional force to fix the issue, our solution works without potential damage to your net, or extra strain on you. Our threaded anchors and Round Loop tool will make sure that your pool net is always as easy as possible to remove and replace.
Better pool nets for better safety
All-Safe is possibly the only company to install 5mm nets. While most companies opt for smaller nets for pools, the 5mm net has 50% more polyethylene material, making it 30% stronger with less deflection.
We are also currently the only company to offer this strong and durable net in four colors – black, tan, dark brown, and blue.
Tangible differences
At All-Safe, we are proud to offer real differences, not unproven claims. We help set the standards of our industry and train our expert installers on the proper spacing, components, and layout to ensure your net will always look and function at it's very best. With the best materials in the industry, we promise your swimming pool will be the safest in the neighborhood.
Purchase and Installation
Every pool, spa, and water feature is different, so the cost will vary. Pool nets cost between $1,500 – $2,500 on average pools, and spa safety nets cost between $600 – $1,000. both of these prices include installation and materials. The final cost will depend on the size of your pool and the anchors needed for optimal safety.
To purchase a net for your pool, contact your local dealer and schedule a free onsite consultation and estimate. This local expert will assess the area and recommend the best options for you and your family. Almost every pool, spa, or water feature we have encountered can have a pool net installed. For optimal safety, the net must be anchored on all sides. If your local All-Safe dealer feels that a net for your pool is not a reliable option, they will let you know immediately.
Because every pool safety net is custom-made and installed on each pool, installation requires a professional. Your local dealer will mark the location of each anchor for your approval before beginning installation. The installation time depends on the size of the area, but it typically takes only two to five hours. Afterward, your installer will demonstrate how to detach, reattach, and maintain the net for your pool. They will also provide all the information you need regarding the 5-year warranty provided by All-Safe.
Get A Quote
Talk to a Pool Safety Expert Today
Keeping your pool safe and secure is no longer an issue with All-Safe swimming pool nets. From day one, we are here to help you create the ultimate safe haven that you and your family can enjoy for years to come. Our All-Safe dealers are here to bring your family the best and highest quality pool safety solutions.
Enter your zip code below and contact your local dealer today.
Get A Quote