Find Your Local Dealer

Let us help you with your pool fence, pool cover, and pool net needs. Please submit your contact information and we'll connect you with one of our dealers.
Welcome to All-Safe Pool Fence & Covers
What is an All-Safe removable pool fence?
All-Safe pool fencing is a removable barrier designed to help keep your children safe in the swimming pool area. The fence is made of a strong, durable, transparent mesh fabric with sturdy aircraft grade, aluminum poles. The poles are inserted into small holes that have been drilled into your deck and the fence is held in place by tension. The fence provides a dependable, convenient, aesthetically pleasing layer of safety around your pool or spa. When not in use, the mesh pool fence is fully removable and can be rolled up for easy storage.
Get Quote
More Info
How safe is All-Safe mesh pool fencing?
All-Safe has been manufacturing and installing pool fences for over 20 years, with a perfect safety record of zero reported drownings. Its fencing is commonly approved by foster care, day care and adoption agencies as a primary pool safety device. All major drowning prevention and swimming pool safety agencies recommend removable pool fencing as a key layer of protection. The high quality materials and meticulous installation practices of All-Safe exceed the nationally recognized standards for pool fencing.
The mesh fabric is climb resistant. Small children are not able to get a foothold like they might with chain link or wrought iron fencing. The transparent nature of the mesh allows for a clear view of the pool area, which is a critical and positive safety factor. The mesh is extremely strong and durable and the poles are designed to prevent breakage. Self-closing, self-latching, key-lockable gates allow adults convenient access but provide a secure measure to prevent children from entering the pool area.
Get QuoteMore Info
Why choose an All-Safe pool fence?
All-Safe is the number one choice of satisfied customers nationwide. They are licensed, bonded, insured and continue to maintain a five star rating on Yelp, Google+ and Facebook. An A+ rating with the BBB and a perfect "A" rating on Angie's List round out their credentials. Highest quality, top of the line fencing is manufactured here in the United States by their skilled craftsmen. Local distribution facilities and a network of independent dealers across the country and internationally make All-Safe a widely available choice. All-Safe is family owned and has been recognized by the United States Small Business Administration as a Family-Owned Business of the Year.
All-Safe pool fencing has been tested, on multiple occasions, by three separate independent testing laboratories to certify compliance with the nationally recognized ASTM standard. All-Safe fencing is approved by the Los Angeles Department of Building and Safety and has an LABDS Research Report to certify approval. All-Safe offers the largest selection of pool fence options in the industry, including multiple heights, colors, pole styles, mesh styles, gate options, paint styles, etc.
Get QuoteMore Info
What is the cost of a safety pool fence?
The average cost to secure a pool is typically between $1500 and $2500 dollars. The price will vary depending on the type of product selected, the layout desired, the materials and the time required to complete the installation. Since every backyard and each pool owner presents a new situation, a free, onsite consultation and quote will be provided. While safety is always the primary focus, maintaining the use and enjoyment of your backyard are also an important aspect of your decision.
Get Quote
More Info
Are there other types of pool fencing?
There are several types of pool fencing available on the market, but very few are designed specifically for pool safety. Perimeter fences are most commonly used to follow the property line of your home and to help keep people outside your property and away from your pool. Isolation fences, such as mesh fencing, is used to separate your home from the pool or spa area.
Wrought iron fencing is sometimes used as a pool safety barrier. This type of fence is climbable because kids can use the iron slats to brace their feet and hoist themselves over. Iron fences don't completely take away your view, but they do obstruct the overall look of the pool area. Wrought iron pool fence can rust over time and is not typically installed as removable. The cost of using wrought iron is usually much higher than that of mesh pool fencing.
Glass fencing offers the transparency that many people are looking for in their pool area. However, glass fencing is very difficult to keep clean, isn't removable and can be extremely expensive.
Chain link fencing is quite obstructive to the view of the pool and is usually considered to be a construction fence. It is very climbable since the diamond shaped openings act as steps for children to use to easily get over the fence and gain pool access.
Wood fencing is not transparent and does not allow a clear view of the pool. For safety reasons, this is a huge drawback. It also obstructs your view of the natural beauty of your pool and yard area.
Removable mesh fencing is the clear choice for providing peace of mind to responsible pool owners.
Get QuoteMore Info
How do I purchase a mesh pool fence?
The first step in purchasing an All-Safe pool fence is to get in touch with a local independent dealer. Simply fill out the "Free Quote" form located here or at the bottom of this page in the footer section. The form will use your zip code to locate a dealer near you and will provide a phone number for you to call.
The independent dealer will schedule a time to visit your home and provide you with a free, no obligation, pool fence price quote. When you are ready to move forward, you can schedule an installation directly with your local dealer.
Get QuoteMore Info
What can I expect on the day of installation?
The majority of pool fence installations are usually completed in just one day. Larger, more complicated jobs could take two or even three days to finish. On the morning of your installation, you will meet with your technician to review and approve the final layout. The technician or crew will then perform the fence installation according to the plan. Holes will be drilled into the deck using a rotary hammer drill or water cooled, diamond tipped core drill. In either case, we will need access to water and electricity. You do not need to be present for the entire installation process. However, it is important that you are available at the end of the installation so we can provide a demonstration and show you how to use your new layer of safety.
Get Quote
More Info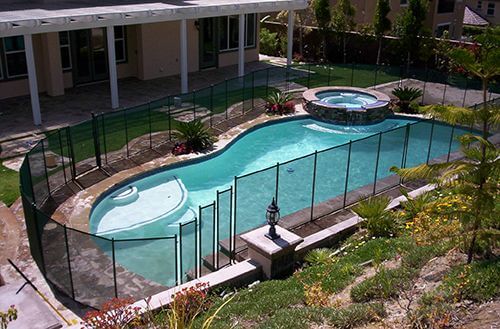 Pool Nets
What is an All-Safe pool safety net?
An All-Safe pool net is a special type of cover designed specifically for the safety of young children. The netting material is made of strong polyethylene twine that is machine tied into 3½ inch squares. A child cannot crawl under it, or fall through it. It meets or exceeds all minimum requirements of the nationally recognized ASTM standard for pool safety covers. Unlike most traditional pool covers, a safety net allows you a clear view of your pool water. This secure layer of safety has a low profile, thus preserving the aesthetics of your backyard. When it's time to enjoy your pool, you simply roll the pool net onto a roller and set it aside.
Get Quote
More Info
How safe is All-Safe pool netting?
Pool safety nets have been used, around the world, for over 30 years, with an impressive safety record. There has never been a reported drowning with a pool net properly in place. Pool nets create a physical barrier, between the water and your child, which keeps the child suspended above the water. A child's arms or legs may go through the openings, but their heads are too large to fit through the mesh squares.
When the pool net is removed, it no longer provides any level of safety. Therefore, it is extremely important that the safety net be placed back over the swimming pool after each use.
Why choose an All-Safe pool net?
We use the very best materials available; including UV resistant, virgin polyethylene netting, marine grade brass anchors, machine stamped stainless steel clips and solid braided polyester rope for the tensioning device.
All-Safe pool safety nets have been laboratory tested to comply with the nationally recognized ASTM standard for swimming pool safety covers.
All-Safe continues to offer the largest selection of pool safety netting material in the industry. There are multiple color options, various anchor styles, tensioning choices and material thicknesses. All-Safe is the only company to offer the Titan Tool and the Round Loop Tool which make it easy to install or remove your net in a matter of minutes.
What is the cost of a pool safety net?
The average range for a medium sized pool net is $1,000 to $2,500. The size, shape and complexity of your pool or spa will be determining factors in the cost of your safety barrier. Your choices in netting material, anchors, tensioning systems and rollers can also impact the price. The, onsite, quote you receive will include all materials and installation.
How do I purchase a pool net?
If you are considering the purchase of a pool safety net, you will need to get in touch with your local, independent dealer. Just fill out the "Free Quote" form located here or at the bottom of this page in the footer section. The free quote form will use your zip code to locate a dealer near you and will provide a phone number for you to call.
The independent dealer will be happy to provide you with a free quote. When you have made your decision, you can schedule an installation date with your local dealer.
What can I expect on the day of installation?
Pool safety net installations are typically completed in less than one day. You will meet with your technician prior to work beginning. After a final review and your approval, small holes, about the size of a penny, will be drilled into your deck approximately two to three feet apart.  Anchors will be placed in the holes. The pool net material is stretched across the water, cut to the exact shape of your pool and the perimeter gets double wrapped. Your net is custom sized on site. You are welcome to leave while the crew continues the installation but will need to be present at time of installation completion so that you can learn how to properly remove and replace your new pool safety net.
Pool Covers
What pool cover is right for me?
Every pool cover option that All-Safe offers will be specifically customized to your pool, spa or water feature. What cover is right for you depends on your needs, the size and shape of your pool, your budget and how accessible you want your pool, spa or water feature to be.
What pool covers provide safety for my kids?
A pool cover must be ASTM compliant to be considered a safety cover.  ASTM compliant means that the materials and the method of installation have been tested and approved by an independent ASTM certified lab to meet national safety standards.
All-Safe offers three types of ASTM compliant covers:
Pool safety net:  A lightweight, easy to use, ASTM compliant safety cover through which the pool water can be seen. It provides an excellent layer of safety on pools and spas of almost any shape and size.

Winter pool cover:  A tightly woven, ASTM compliant, mesh cover used primarily to reduce maintenance or to to close down the pool in the off season. While this type of cover is very safe, it is heavy and cannot be quickly or easily removed for frequent pool usage.

Automatic pool cover: An easy to use, motorized, ASTM compliant cover, designed for both safety and maintenance. Suitable for use on rectangle or simply shaped pools with a deck free of elevation changes. Most pools are not designed to accommodate an automatic cover.
What pool covers keep out debris and/or reduce maintenance?
All-Safe offers four cover options that will help keep dirt, leaves and debris out of your pool and reduce cleaning maintenance:
Pool safety net with leaf cover: This is an option where a lightweight  mesh style custom leaf cover is used together with your safety net. This combination will provide safety while keeping the majority of leaves and debris out of your pool or spa.

Leaf pool cover without a safety net: This is a lightweight mesh style pool cover option that is not an ASTM compliant safety cover. This cover is used only for reducing maintenance.

Winter pool cover: Winter pool covers can be used to winterize your pool in colder climates. A winter pool cover is an ASTM compliant safety cover that will keep most debris out of the pool. These covers are not a good option for someone who still wants access to their pool or spa on a frequent basis.

Automatic pool cover: Automatic pool covers will keep most dust and debris out of your pool. It will also reduce evaporation, help retain heat and cut  chemical costs.  These are the easiest covers to use as they open and close with the turn of a key. They are, however, they the most expensive and are not suitable for all pools.
What pool cover will help with heating cost and/or is a solar cover?
The automatic pool cover is the only pool cover All-Safe offers that helps with pool heating. An automatic pool cover is a solid non-transparent pool cover so solar rays do not go through to raise the temperature more than few  degrees. But once the pool is heated, the automatic pool cover will do a great job of keeping the heat in. If you want to keep your pool at a comfortable swimmable temperature year around, the automatic pool cover will more than pay for itself.
One of the most common requests we get is for a cover that will use the sun to heat their pool. There is a cover that can do this, traditionally known as a "bubble cover". These covers are not safety covers and can actually be a safety hazard if someone were to fall on it when the cover is still on the water. For this reason All-Safe does not offer solar bubble covers.
Is there a hard pool cover or a pool cover I can walk on?
This is one of the most commonly asked questions.  Unfortunately, there is not a hard or solid safety cover that is designed to be walked or played on. However, ASTM compliant pool covers are tested to hold 485 pounds of weight without breaking. If it is necessary to walk on the cover, in the case of an emergency or to retrieve a child or pet, the covers will support the weight. That is not to say it will hold 485 pounds entirely above water. With enough weight placed on the cover, you may get your feet wet. If it becomes normal practice to walk across your pool cover, it will reduce the life of the pool cover and jeopardize it's integrity.
What pool cover will allow me to shut down or empty my pool?
Although All-Safe does install covers on empty pools, all ASTM testing is done with water in the pool. The water provides buoyancy that helps hold the weight of the cover and whatever is on top of the cover. So when any ASTM compliant pool cover is installed on a pool without water it will require a liability release and can have an effect on the warranty.
With the exception of colder climates that need to winterize pool and spas it is not advised that a working pool be emptied or pumps shut down, with or without a cover. With the exception of the net,  All-Safe pool covers will allow you to cover a pool that is not being used to keep a large majority of the debris out. They will still allow access to check and adjust chemicals and add or pump water out as needed.
Pool Alarms
What types of pool alarms does All-Safe offer?
All-Safe offers a variety of pool, door and gate alarms. When alarms are used alone or in conjunction with a Pool Fence, Safety Net or Pool Cover, they provide additional layers of security & safety. Many pool alarms are also available to safely secure any above-ground or in-ground pool. Our Poolguard® Door Alarms are UL Listed, meet all building codes & are ASTM (F2208-02) approved. Poolguard® Door Alarms come with optional immediate or delayed alerts.
All Pool Alarms we offer are available for direct purchase exclusively through our online store and shipped from our Southern California warehouse. Please visit allsafepoolstore.com to place your order or view pricing.
More Info