Get a Mesh Pool Cover now!

Complete this form to find your local pool cover dealer. We'll use your zip code to display the contact info for the dealer in your local area.
What is a pool cover?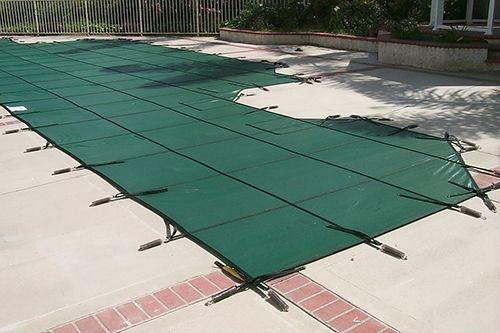 A pool cover made of mesh is a special type of cover that provides both safety and maintenance benefits. Rainwater passes through the fine mesh fabric while leaves and debris stay on top and can be blown off with a leaf blower. The cover is supported by super strong straps allowing the cover to hold the weight of several adults (although you would only walk on the cover in the event of an emergency). "Mesh pool covers" go by a few different names, including "winter pool cover", "pool safety cover" and "safety pool cover" but they all refer to the same product. The name varies depending on which area in the country you are in.
In areas where the winters are fairly cold, trees shed their leaves and snow may be likely, winter pool covers are used to "close" your pool. At the end of the swim season, the swimming pool is "winterized" and covered with a winter pool cover. When the swimming season begins again, the cover is removed, along with any debris that has accumulated on top of the cover. In areas where the swim season lasts longer, perhaps even the entire year, mesh covers are used year round to keep out leaves and debris while also providing a strong, safe pool cover to keep young children safe. In these scenarios, the cover is often called a "safety pool cover".
Get Quote
Gallery
How safe and strong are safety pool covers?
Safety pool covers are one of the safest options when it comes to swimming pool safety. They are exceptionally strong, very secure and meet the ASTM standard for swimming pool safety covers. ASTM compliant means that a cover has been tested by an independent third-party laboratory to verify that it meets or exceeds the specifications outlined by the
American Society for Testing and Materials (ASTM)
. Most inspectors and jurisdictions reference the ASTM standard.
You may have seen pool covers with cars or elephants on them to demonstrate their strength. We certainly don't recommend this, but it does give a good idea of just how strong they are. The strength comes primarily from the straps that stretch across the pool and anchor into the pool deck. The straps are spaced about every 3 to 5 feet and create a grid with mesh sewn in the squares of the grid. This mesh is very strong and weather resistant. It would be nearly impossible to penetrate the mesh with your bare hands, but of course a knife or scissors could cut through it.
Get Quote
Is a pool safety cover easy to use?
The short answer is, no, pool safety covers are not easy to use. Most pool owners who own a pool safety cover remove and replace it only a couple of times per year. Although an experienced person can remove a mesh cover by him/herself, we recommend that two able-bodied people work together to remove or replace the cover. Once the cover is in place, it does not require much maintenance, but getting it in place does require some work. Removal and replacement is not particularly complicated, but it does require a little practice and some physical strength. It can take anywhere from 10 to 30 minutes to remove a simple mesh cover. Larger, more complicated pool covers will take even longer. For this reason, we do not recommend a mesh cover for frequent swimmers who are concerned only about safety. In that case, we would recommend a pool fence or pool net. However, if the primary goal is to keep out leaves and debris, a mesh model may be the best option.
Get Quote
Why choose a mesh cover vs other covers?
All-Safe mesh covers are the ideal pool cover for keeping leaves and debris out of your pool, particularly if you want to "close down" your pool for the off-season. They provide an excellent level of safety due to their strength and design. Unlike an automatic cover, mesh covers allow rainwater to pass through so that water does not collect on top of the cover. Another benefit of a safety pool cover is that it can be custom-made to fit any shape pool. Automatic pool covers must always be rectangular shaped. Pool safety nets provide an excellent "safety" cover, but they do not offer protection from leaves and debris (unless paired with a
leaf pool cover
). Occasionally a "tarp pool cover" is compared to a mesh pool cover, but there is really no comparison. A tarp pool cover is just a large vinyl tarp that is held in place with bags of water. Both can be used to "winterize" your pool, but a tarp pool cover does not offer any safety benefit.
Get Quote
Why choose All-Safe?
All-Safe has been selling and installing pool safety covers for over 20 years. During that time we have learned what works and what does not. We know how to match up the right pool cover with the right pool and pool owner. Our pool safety covers meet the ASTM standard. We offer only high quality covers and avoid anything that is not going to last or perform as you would expect.
If you search for All-Safe Pool Fence & Covers on the internet, you will find endless reviews and testimonials commenting on our performance and reputation. Don't take it from us or from our website; find it on independent third-party websites like Yelp, Angie's list, Google+ and the Better Business Bureau. We are not perfect, but we do everything we can to get as close as possible.
Get Quote
What is the cost?
An average size winter pool cover will cost anywhere from $2500 to $4500 or more. Costs vary depending on where you live as well as the details of your swimming pool. Large freeform shaped pools with elevation changes and obstructions surrounding the perimeter are going to cost significantly more than a small one-level rectangle. You may find similar covers on other websites that appear to be less expensive, but keep in mind that these covers do not include installation, nor are they custom-made to the exact size and shape of your pool. Often times they are made with the lowest quality materials.
Get Quote
How do I purchase an All-Safe mesh cover?
The first step is to get in contact with your local independent All-Safe dealer. You can find your local All-Safe dealer by submitting the
Free Estimate Form
. Your local dealer will schedule a free on-site estimate to advise if your pool, spa or water feature is a good fit for a mesh cover. They will review your options including available colors that will look best on your pool, spa or water feature.
Get Quote
What can I expect on the day of installation?
The first step in the process, after you place an order for a pool safety cover, is for a technician to come measure your pool area. Depending on the shape and complexity of your pool, anywhere from a dozen to a few hundred measurements are taken using a measuring concept called triangulation. These measurements are then sent to the manufacturer and your cover is custom-made. In the busy season, this process can take 3 to 4 weeks. Once your cover is ready, it will be shipped to your local dealer or directly to your home. At that point, an installation date will be scheduled and the final installation of the anchors can be completed.
The installation itself will take a few hours. When the installation is complete, you will be given a demonstration on how to remove and replace it.
Get Quote
What colors can I choose from?
All-Safe offers covers in several colors including green, tan, blue and black. Fabric choices also include a solid or mesh fabric material.
Get Quote
Can a safety pool cover be installed on any pool?
Safety pool covers can be a stock size, for example a rectangle, or they can be customized to the exact size and shape as your pool. They are versatile in some ways, but have their limitations. For example, raised walls, multiple step-ups and rock formations can be very challenging. The ideal situation for a mesh pool cover is a swimming pool with one level of decking all the way around the pool (no elevation changes) and little to no obstructions around the perimeter. A few things here and there, like grab rails, ladder rails and dive stands can be addressed with a simple cutout. But trying to get the cover to attach flush to an irregular vertical rock formation can be very difficult. Pool safety covers look and function best when they are flat. A single 6" step-up is okay, but anything more than that should be considered carefully.
Get Quote
Do mesh covers help to heat my pool or reduce evaporation?
Although these are excellent at keeping unwanted leaves and other debris from getting into your pool, they are not particularly good at retaining the heat in your pool. A winter pool cover will improve the heat retention; it is not considered to have thermal benefits like an automatic pool cover or solar blanket. Similarly, you will experience less evaporation and water loss with a mesh pool cover, but not to the same extent that you would notice with an electric pool cover or bubble blanket.
Get Quote
Can I install the cover myself?
If you have experience hammer drilling and/or core-drilling into concrete and you are pretty handy with tools and construction, then you can probably install a simple mesh pool cover. However, there is some "art" involved. You are drilling holes into your deck and mistakes cannot be easily fixed. For this reason, we always recommend that you have a professional perform the installation. This preserves the warranty and ensures that you will not only have a safe pool cover, but also one that looks good too.
Get Quote
Warranty – Coverage
Mesh pool covers come with a manufacturer's 12 year limited warranty.
Get Quote