Despite their high initial and maintenance costs, pools are loved for offering ultimate swimming activity among families and their friends. However, pools can become dangerous traps too if safety precautions are not properly followed. A recent report shows that close to 400 children drown in U.S. pools each year. As a safety precaution, it is recommended to install a pool fence to prevent unintentional pool accidents from occurring in your backyard. Here are 5 tips on how to choose the right swimming pool fence for your home:
5 Tips On Choosing The Right Swimming Pool Fence – Click For a Quote!
1. Choose A Removable Mesh Pool Fence
Several types of pool fencing are available, but only a few are designed specifically for pool safety. We will go over a few types of pool fencing and discuss why a removable mesh pool fence is the recommended pool safety solution for pool owners with young children.
Wrought iron pool fencing was a pool barrier that was commonly used for pool safety in the past. However, kids can brace their feet on the iron slats and is considered more climbable than mesh pool fencing. The cost for a wrought iron pool fence is 2x – 4x's the cost of mesh pool fencing.
Glass pool fencing provides homeowners the transparent view into their pool area. But, glass fencing is very hard to keep clean and you cannot remove it after it is installed. And, a glass pool fence can be extremely expensive as it often ranges from 5x to 25x's the cost of a mesh pool fence.
Chain link pool fencing obstructs the view of your swimming pool and out of all the pool fences it is most climbable by children as the diamond shaped holes act as steps for them to use to get over the fence. A chain link pool fence on average is 1.5x to 2.5x's the cost of a mesh fence.
Wood pool fencing obstructs the view of your pool and therefore it is not an idea pool safety measure. Also, the cost of a wood pool fence would be 1.5x to 5x's the cost of a mesh pool fence.
A removable mesh pool fence is the recommended pool barrier. The flexible mesh fabric is climb resistant so small children will find the fence difficult to climb since they aren't able to get a foothold like they might with a chain link or wrought iron pool fencing. The mesh material does not obstruct your view into the pool and allows you a clear view of the pool area, which is a critical safety factor. The mesh is strong and woven so it cannot be torn by a child or even a powerful adult.
2. Ensure The Pool Fence Is Strong And Sturdy
Look for pool fence material that is ASTM compliant, which means it has been independently tested for safety by an independent ASTM certified laboratory. You want the strongest poles for your pool fence, which is measured by the break strength. And as stated above, mesh material is recommended because it cannot be torn under normal circumstances. You want a pool fence that is professionally engineered from the best components to ensure your fence is the safest and looks good around your pool aesthetically.
3. Budget For Your Swimming Pool Fence
The cost of installing a pool fence depends on the type of fence product selected, the time required to complete the installation project, the layout of your swimming pool, and the location of where you live. You should budget about $1,500 – $2,500 for a mesh pool fence that is on an even level and does not go through dirt or grass. Expect to budget more if you have special requirements for your pool. If your pool is near a sloped hillside, has several steps or paving stones, you want a fence with 90 degree turns and multiple gates it is going to cost more than a fence with one gate that runs straight across a level concrete deck.
4. Add Other Pool Safety Measures
If you want to enhance the safety of your pool even further, then consider installing a mesh pool cover. This is a special type of pool cover that provides both safety and maintenance benefits. It can be used year round to keep out debris while also providing a strong, safe pool cover to keep young children from entering the pool.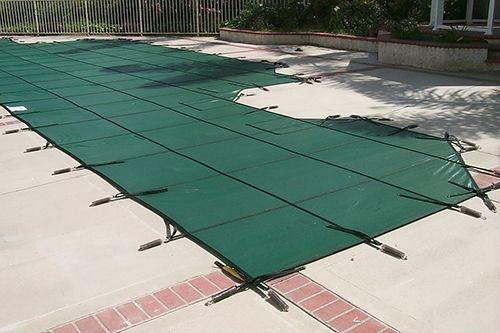 5. Hire A Professional Swimming Pool Fence Company
Rather than attempting to set up a pool fence yourself, hire a professional swimming pool fence company as they will ensure that your pool fence is installed correctly. You may install a swimming pool fence on your own, but you may miss minute details, which a professional installer will easily detect. There is absolutely no room for error when it comes to protecting your family from unintentional accidents in the swimming pool. If you decide to go with a swimming pool fence company, do your due diligence in researching how long they have been installing pool fences, customer testimonials on review websites, and do they provide a no-obligation quote on a removable swimming pool fence estimate.