A swimming pool at home is one of the best ways for any family to enjoy their property. But once a pool has been installed in your home, other important factors such as the safety of your kids and pets arise.
A fence can help keep your kids and pets safe from falling into the water. So how do you go about selecting one from the pool fence options available to you? These are 6 factors you need to consider when selecting a pool fence for your home. Look here for a list of common pool fence types.
1. Material/strength of the Pool Fence
A pool fence should be as strong as it can get. For starters, pool fences come in a variety of materials that you can choose from. There are people who prefer the wooden material because they like the look, while others would go for a vinyl material because it is easier to maintain. Likewise, some people prefer iron fences because they're durable. Removable mesh fencing is widely considered the safest pool fence option for residential pools because it is made specifically for pool safety.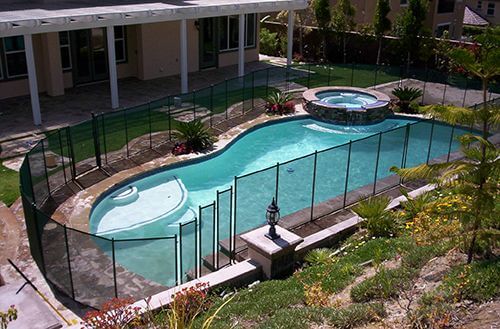 2. Removable or Permanent Pool Fencing
A permanent pool fence is there for good, or at least would be expensive to remove. The beauty of a removable fence is that you can easily take it down if you need more space around the pool, and put it back up again with little time or effort required.
3. Cost of the Pool Fence
The total cost of a pool fence includes the cost of the fence itself plus installation. The price of the fence may vary depending on the height and total footage. The number of gates required for the fence may also affect the price. Consider all these factors among your pool fence options to ensure you pick the best choice for your family and swimming pool.
4. Design
Once you have chosen a material, say mesh pool fence or glass pool fence, you need to decide how it will enclose your pool area. It must be elevated high enough to bar children and pets from jumping or climbing over it. The gate must also open outwards per regulations and must have a self-closing latch.
5. Pool Fence Color
The color of the fence is a factor to consider. Most materials like wood and iron can be painted with a color of your choice. But if you are looking for a ready-made color, then it is important that you consider a pool fence with color options that blends well with the pool surroundings.
Fine mesh pool fencing comes in a variety of colors and is mostly see-through, so you can preserve good views of your beautiful pool. Of course, this is a safety precaution too. It's harder for kids to get out of your sight in the pool area, and you can quickly see if someone is in the water.
6. Self-installation vs. Professional Installation
Some people prefer to install them by themselves to cut down the cost of installation. However, installing a fence can be a really tedious task that requires expertise and experience. You will need to get the right measurements for the holes and know the exact position of the gate among other things. Getting things off by just a little bit can even ruin your pool deck, costing you more money to fix in the long run.
It is strongly recommended that you hire a professional so that the fence is installed properly and safely. Start by connecting with a pool fence professional. Contact an All-Safe dealer in your area who will provide a free quote and consultation. They will review all of your pool fence options with you so that you know exactly how much your new fence will cost, and how effectively it will protect your family.