4 Important Reasons Why You Need a Pool Fence
Pools are some of the best ways to truly enjoy your property, but swimming pools can also be dangerous. It's important for pool owners to consider investing in a removable pool fence, especially if they have small children in their home. These are four important benefits of swimming pool fences.

1. Fences Help Prevent Small Children from Drowning
The USA Swimming Foundation reported that from Memorial Day to Labor Day in 2014, 174 children between 1 and 14 drowned in pool and spas. 112 of those victims were children under 5 years old. For any family that regularly has small children play in their pool area, installing a pool safety fence is a great way to make the area more secure and limit the dangers of pools. Safety pool fences are made from a durable mesh fabric and can be easily removed when not in use.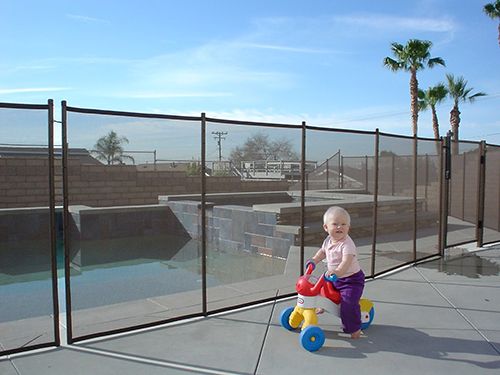 2. Fences Make Pool Safety User-Friendly
One of the most important components of limiting swimming pool dangers is committing to safety measure you will use consistently and properly.
Removable pool fences are some of the most user-friendly accessories available. Once they're professionally installed, removing and replacing the fence can be done in a matter of minutes. When in place, the durable mesh material becomes a stable pool barrier. When rolled up and stored, the fence is completely out of the way, allowing you to use all the space in your pool area.
3. Keeps pool clean and reduces maintenance
swimming pool dangers, it also danger of pools. Debris in your pool can add to the danger. Removable pool fences reduce your pool's maintenance needs by keeping out leaves and other debris, though not quite as well as a leaf pool cover.
4. Fences Maintain A Pool's Aesthetic Appeal
Pool owners can find a swimming pool fences to match any backyard. With colors including black, brown, tan, and green, All-Safe is just one of many companies that offers great options for consumers. We even have various styles and offer custom color combinations to bring you the most personalized fences in the industry.
Talk to a Pool Fence Expert
Adding a removable pool fence to your swimming pool area is a beneficial investment that pays for itself. Along with being an extra safety measure that prevents swimming pool dangers, it also aids in keeping your pool as clean and refreshing as the day you got it.
As soon as you're ready, take the next step making your pool area better than ever, call your local All-Safe dealer for a free onsite estimate and find out what stress-free safety pool fences can do for your family.