5 Ways To Prepare For Moving Into A New House With A Swimming Pool
A durable pool fence can make a big difference! Moving into a new home can be a daunting task, this is especially so if you are moving into a house with a swimming pool. This usually calls for extra vigilance to ensure the move from one home to the other is seamless and devoid of mishaps. For the safety of the entire family, here are 5 ways to prepare for moving into a house with a swimming pool.
1. Install A Mesh Durable Pool Fence
Having a pool fence is a requirement in most of the United States. Any time you become responsible for a new swimming pool, you should ensure that there is a proper safety barrier in place.
Even if it is not mandatory in your area, a durable mesh pool fence is one of the safest and most reliable ways of keeping children away from the swimming pool. You can install removable mesh pool fencing, which is very difficult for children to climb. Restrict access to the swimming pool by installing a pool fence that encloses the entire perimeter of your pool. If the type of fence you are using comes with a latch, ensure it is located at a point that is out of reach of small children and always check to make sure the latch is in adjustment, closing and locking properly.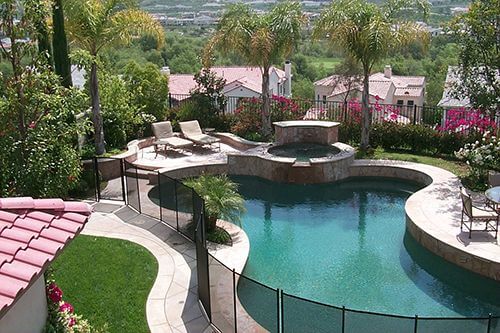 2. Install A Pool Cover
Another important item you can use lieu of or in addition to a pool fence, is a pool cover, which will help in keeping your new swimming pool clean from debris such as leaves and trash. Mesh pool covers are designed for safety as well as for maintenance. Automatic pool covers operate electronically with the simple turn of a key. They are an ideal and convenient solution for both pool safety and pool maintenance, but not feasible for all pools. A leaf pool cover is a lightweight fabric cover that is installed directly over a pool safety net and keeps leaves and debris out of your pool.
3. Make Plans To Implement Other Safety Measures
Even though a pool fence and a pool cover are some of the most important safety precautions you need to take into consideration, there are other safety measures that you should put into place prior to moving into the new house. Installation of pool alarms and proper securing of all doors around your new swimming pool should also be undertaken to ensure safety and security around the home.
4. Buy The Necessary Chemicals And Cleaning Equipments
Proper maintenance of the swimming pool is a must. You should make a point of buying all the requisite chemicals such as Chlorine tablets and Super-Chlorine for shocking the pool, a hand or leaf skimmer for removing leaves and bugs, a pH testing kit (reagents or test strips), Muriatic Acid and Trisodium Phosphate for cleaning filters.
All these items should be kept in a secure place that's locked. Even if your new swimming pool looks clean, don't take a plunge unless you have personally cleaned or supervised the cleaning and can vouch for its safety.
5. Educate Your Family Members About Appropriate Pool Etiquette
This is one aspect that many people tend to ignore. If you and your family were not living in a house with a swimming pool before it is important to have a discussion with all family members and talk about the inherent privileges as well as dangers of having a swimming pool at home. Discuss the safety precautions you plan to or have already undertaken and ensure everyone understands.
Even if your previous home had a pool, there is no harm in revisiting the safety rules and behavior. Children should be encouraged to enjoy the facility under the supervision of an adult. And, older family members should be constantly reminded of their responsibility to always lock the door, set pool alarm systems, supervise young children, and keep the pool clean.
Ask an Expert
Get an expert opinion on the best safety equipment for your new swimming pool when you schedule an on-site consultation and free quote. Find your local dealer today.