Get a Pool Net now!

Complete this form to find your local pool safety dealer. We'll use your zip code to display the contact info for the dealer in your local area.
What is a pool net?
Pool safety nets are a great option to cover your pool, spa or water feature in lieu of a vertical fence or if you wish to maintain an unobstructed view. Because of the ease of operation and low cost, net covers are the second most common product purchased for pool safety. All-Safe pool safety nets have 3 ½ inch openings. These openings make it difficult to walk or move across. However, openings are small enough to prevent a child's head from going through. Pool safety nets are lightweight and very versatile and can be installed on almost any pool, spa or water feature. They are also convenient for everyday pool use with a typical pool taking less than 15 minutes to take off or put back on.
A pool net is typically installed by placing a flush brass anchor approximately every 2 feet around the pool. However, different anchors are used for different situations. In the middle of most nets there are 1 or 2 central tensioning systems with CTS lines that are tied off to the edge for tightening. Some pools do allow for a safety net to be installed without a CTS system (Consult your local dealer for more information). All-Safe's Titan tool is used to apply the tension to the CTS line and a roller or bag is used to keep the net from tangling.
Get Quote
Our Gallery of Safety Nets
Gallery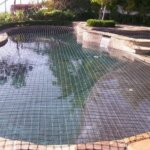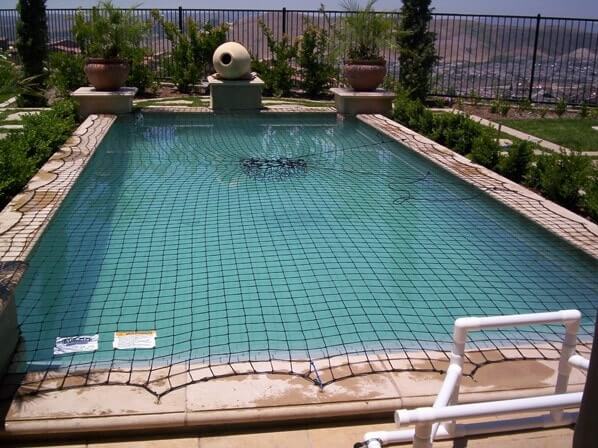 How safe and strong are swimming pool nets?
All-Safe safety nets are ASTM compliant. ASTM compliant means they have been independently tested for safety. The nets are anchored to the sides of the pool, spa or pond and tension is applied across the net with a central tensioning system or a round loop tool. Pool safety nets cannot be operated by a child who has not been taught to do so and do require a tool to take off and put back on. In over 20 years of installing nets All-Safe has never had a reported accident.
For most pools, spas and water features, a safety net is a great option to provide safety for your family. Some pools can have features such as infinity edges that a homeowner will need to be made aware of. During the time of your estimate, your estimator will advise you of any safety concerns.
ASTM compliancy testing requires that All-Safe pool safety nets are installed to hold the weight of a child and two adults which is rated at 485 lbs. This rating is for breaking strength, not to be confused with holding 485 lbs of weight above the water. Your local All-Safe estimator will be able to explain how this rating applies to your child's safety. It is also important to understand that a net's strength can be compromised by poorly constructed or deteriorating decks, water features or coping.
Get Quote
Is a pool safety net easy to use?
In most cases, a pool safety net can easily be removed in 5-10 minutes and put back on in 7-15 minutes (most of the time is dedicated to removing the clips from their anchors, placed approx every 2 feet). A spa safety net can be removed in 2-5 minutes and put back on in 3-7 minutes. Every pool, spa and water feature will be different and your local All-Safe estimator will advise you of features specific to your pool that can increase the estimated times. Some common factors that can increase times are lack of access to certain areas of the pool, very large pools, and some pool shapes will create tension issues.
Get Quote
Why choose a pool net vs other covers?
All-Safe pool safety nets are the most convenient safety covers that can be used on your pool. Unlike other covers, they can be installed on almost any pool, spa or water feature. Pool nets also have the option of adding a lightweight, easy to remove leaf cover that will help with debris issues as well.
Get Quote
Why choose an All-Safe pool net?
At All-Safe we pride ourselves on proving that not all pool nets or pool net companies are the same:
We have been manufacturing and installing pool safety barriers for over 20 years.
We offer second to none installation practices and service and are proud to have a 5 star rating on Yelp, Angie's List, Google, and an A+ rating with the BBB.
All-Safe installs only documented ASTM compliant net material which means it has been independently tested for safety by an independent ASTM certified laboratory. We use only the absolute best materials, installation processes and components.
At All-Safe we are the only company to offer the following with our pool safety nets:
All-Safe's exclusive Titan Tool (available in Small and Large) – This is the best tool in the industry used to apply the tension to the CTS (Central Tensioning System). The Titan tool has a natural easy motion when applying and removing tension from the CTS line, making it simple and easy to use for all pool owners to apply the tension to your pool safety net.
All-Safe's exclusive Round Loop Tool is used to apply tension or solve tension issues such as lock-off. Lock-off is when features or the shape of the pool will not release tension in the area. Other companies will simply make you "muscle it off". At All-Safe we will install threaded anchors and a Round Loop tool so that your pool safety net is much easier to remove and replace.
All-Safe is the only company to install a 5mm net vs. 4mm or 3.5mm offered by other companies. The 5mm net has 50% more polyethylene material and is 30% stronger with less deflection.All-Safe is also the only company to offer 4 colors – black, tan, dark brown and blue.
Bottom line… at All-Safe we pride ourselves on offering real tangible differences, not "talking points", unproven claims or gimmicks. All-Safe has professionally engineered the best components and uses the best material to make sure your net is the safest and offers the best looking net in the industry. Our reputation is second to none proven by our on-line reviews, testimonials, customer and professional referrals. We pride ourselves on using the absolute best practices in the industry. We train our expert installers on the proper spacing, components, and layout to ensure your net will look and function the best way it possibly can.
Get Quote
What is the cost of a pool net?
Every pool, spa and water feature is different and cost will vary depending on each specific pool. On average the cost to have a pool safety net installed is $1,500 – $2,500 and spa safety nets will average $600 – $1,000 (includes installation and materials). Cost factors include the size of the pool, spa or water feature, where the anchors need to be attached and style of anchor.
Get Quote
How do I purchase an All-Safe pool safety net?
The first step is to get in contact with your local independent All-Safe dealer. You can find your local All-Safe dealer by submitting the
Free Estimate form
. Your local dealer will schedule a free on-site estimate to advise if your pool, spa or water feature is a good fit for a safety net. They will review your options including available colors that will look best on your pool, spa or water feature.
Get Quote
What can I expect on the day of installation?
Your installer will begin with marking where each anchor will be placed and drilled. Once you have approved the placement of your anchors, tensioning device (Titan Tool) and roller, the installer will start the process of drilling, shaping, customizing, adjusting and sewing your net. Based on the size of your pool, spa or water feature, most installs typically average 2-5 hours. Once the net is complete, the installer will demonstrate how to remove your net and put it back on.
Get Quote
What colors can I choose from?
All-Safe offers pool safety nets in 4 colors; Blue, Black, Dark Brown and Tan. Some of our customers prefer their pool safety net to match the water color, and some prefer to match the surrounding deck. The color that is right for you is strictly your preference.
Get Quote
Can a pool net be installed on any pool?
Almost every pool, spa or water feature we have encountered can have a safety net installed. However, safety nets are not ideal for every pool or spa, specifically if an area of the pool or spa is tough to access. In order to be safe, the net needs to be anchored on all sides. If a side is left unanchored, then that area has the potential of trapping someone under the net if they were to fall through. If your pool or spa has an area that cannot be accessed on land and you must enter the water a net is still an option. This is referred to as a swim-up removal. However, because electric tools are used during the install your pool or spa will need to be emptied for the installation.
Get Quote
Do pool nets keep debris out?
The openings on a pool safety net are 3 ½ inches. These openings will allow small debris (leaves) and particles (dust, dirt) to go through the openings while keeping large debris (tree branches) out.
An optional leaf cover is available in addition to the net. A leaf cover is a lightweight custom cover that is custom shaped to your pool and pool net. The leaf pool cover does not provide safety when used on its own. However, when used in combination the safety net and leaf cover will provide both safety and debris protection for your pool or spa.
Get Quote
Can I install the pool net myself?
Because every pool safety net is custom installed to each pool, the process does require a trained professional. Your local All-Safe dealer will need to drill the holes with the proper spacing, set the anchors, sew in the CTS in the proper place specific to your pool, stretch the net, attach the clips, cut the net to the shape of the pool, sew the border and adjust to the proper tension.
Get Quote
Warranty – Coverage
All-Safe pool safety nets come with a manufacturer's 5 year warranty.
Get Quote