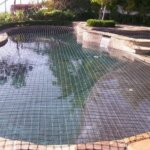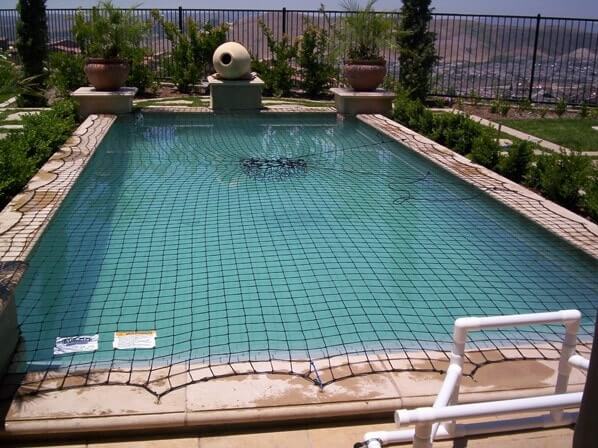 What is a pool net?
A Pool safety net is a great option to keep your pool, spa or water feature safe. A pool net is a great alternative to pool fence if you wish to maintain an unobstructed view of your pool. A pool net offers ease of operation and lower cost when compared to other alternatives. Pool safety nets are the second most common safety product to keep families safe around the pool. All-Safe pool nets have 3 ½ inch openings. These openings make it difficult to walk across keeping kids close to the edge. However, openings are small enough to prevent a child's body from going through and drowning.
Pool safety nets are extremely lightweight, versatile. Most pools, spas, and water features will the option of using a pool net. Pool nets are also convenient enough for everyday use. Typically takes less than 15 minutes to remove or put on. Installation is easy usually only taking a couple hours. An Installer will place an anchor approximately every 2 feet around the pool. There are many types of anchors including flush brass, keyhole, and composite. Pool nets are kept tight using 1 or 2 central tensions systems (CTS). A CTS consists of lines that use a device to pull the line tight and central pulleys to distribute the force. Some pools do not need a CTS system your dealer will advise you if this is an option.
Get Quote

How Safe are Pool Nets?
All-Safe pool nets are tested by an independent laboratory for safety. Ensuring your product is safe and able to stand up to the job. Anchors installed around the pool, spa, or pond hold the net in place. Pool Nets are tensioned using a central tension system or round loop tool.
Once tension is applied a pool safety net cannot be removed by a child, and the child will not be able to fall into the water. Parents can teach older children how to remove the system. However removal requires a special tool to take the pool net off. Since we have been installing pool nets over 25 years ago we have never had a reported accident. A Safety net is a great option to keep your family safe for most pools. While most water features are safe with pool net, some need addition measures. During your estimate your estimator will make you aware of these issues.
Get Quote

How Strong are Pool Nets?
All-Safe pool nets meet ASTM standards. ASTM testing requires that all safety nets are able to hold the weight of a child and two adults (485 lbs). The 485 lb limit is for break strength, meaning with this much weight the net will dip into the water. Pool nets keep children out of the water, but they can still get wet but will be unable to enter the pool. Your estimator will help explain how this rating affects your child's safety. A pool net's strength can be affected by deteriorating decks, water features or coping.
Get Quote

Is a pool safety net easy to use?
Most customers are able to remove a pool net in 5-10 minutes. Installation takes
slightly
longer at 7-15. R
emoving or installing clips from anchors takes a majority of this time. Smaller installations, such as those over a spa take
2-5 minutes to remove and put back on in 3-7 minutes. Some factors that increase time are; a lack of access, very large pools, and some pool shapes. Each pool, spa, and water feature will have different requirements. Your estimator will let you know how long it will take.
We provide videos that show how easy it is to remove or install a pool net. Use this link to view our how-to videos.
How much does a pool net cost?
A typical pool safety net costs $1,500 – $2,500 to install on a pool and $600 – $1,000 to install over a spa. This cost includes installation and materials. Costs vary based on a number of factors including the pool or spa size, where anchors are installed, and style of anchor. Each pool, spa, and water feature requires specialized installation, so cost will vary.
How do I purchase an All-Safe pool safety net?
The first step to getting your pool net is to contact your local All-Safe dealer. Use the form above to find your dealer. Your dealer will schedule a free estimate to determine if a pool net will be a good fit. While there they will go over options including available colors. Let your estimator find help find the solution for your pool, spa, or water feature.
Get Quote

What colors of safety net are offered?
All-Safe manufactures pool safety nets in; Tan, Dark Brown, Black, and Blue. Your estimator will be happy to provide you with samples allowing you to choose the right color for you.
Can a pool net be installed on any pool?
Most pool, spa, or water feature can have a safety net installed. However, some pools, or spas are not candidates for a pool net. Some pools are in an area that is tough to access making a pool net difficult to use. A pool net needs to be anchored on all sides so inaccessible ares create a problem. Some pools or spas have areas that do not allow a net to be anchored on all sides. In this case a mesh pool fence may be a better option. We are still able to install a net on most pools, your estimator will advise you on any potential problems.
Can I install a pool net myself?
Each pool net is custom made for each pool, as such a trained professional is required. Your dealer will need to drill holes in the proper locations, set anchors, and sew the CTS in the proper location. Because each pool net is a custom fit they need to be stretched, have clips installed in the correct location, and must be properly tensioned.
Warranty – Coverage
All-Safe pool safety nets come with a manufacturer's 5 year warranty.