What is A Pool Safety Net?
A safety net for your swimming pool is an indispensable tool for keeping children safe in your pool area. It is a great alternative to pool fences or covers for those who want to maintain an unobstructed view of their pool. They are easy to use and come at a great cost compared to other pool safety options.
All-Safe pool safety nets have 3 ½ inch openings to make it difficult for children to get far from the edge and nearly impossible for them to submerge below the water.
All-Safe swimming pool nets are lightweight, versatile, and perfect for everyday use. It generally takes about 15 minutes to remove or replace, and only a couple of hours for a professional to install.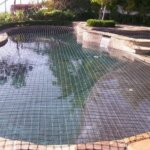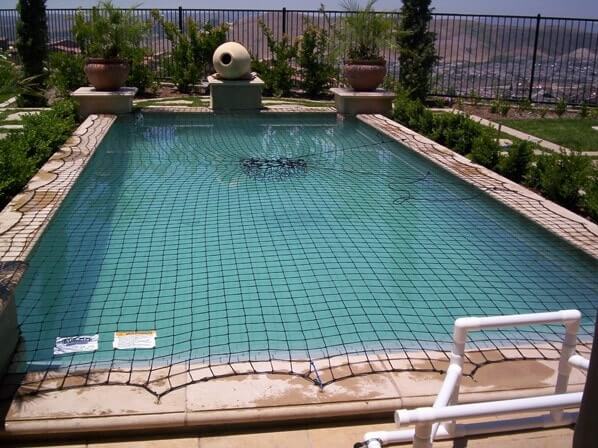 How Safe Are Pool Nets?
In 25, All-Safe has never had a reported accident with a net properly in place. Your safety is our number one priority, these safety nets for your swimming pool are tested and certified to ASTM standards by multiple independent labs. Upon installation, your local All-Safe technician will place flush brass, keyhole or composite anchors to hold the net every 2 feet around the pool. These anchors help keep the pool safety net tight and will occasionally be used with a central tension system, which uses a device to pull net lines tight and distribute the force across the top of your pool.
Once tension is applied to the swimming pool net, your child will not be able to remove the net, and cannot fall into the water. Parents can teach older children how to safely remove the system, but removal requires a special tool.
Get Quote
How Strong Are Pool Nets?
All-Safe safety nets for swimming pools are installed and developed with the highest quality materials and tools. They're certified to hold 485 pounds without breaking, which is the approximate weight of a child and two adults.
All-Safe 5mm pool nets come with a limited 5-year manufacturer's warranty. This limited warranty covers materials only and does not cover on-site labor or service. All warranty claims must be processed through the independent company that performs your installation. Please see our disclaimer for more information.
Is A Pool Safety Net Easy to Use?
Removing and replacing your pool net is typically a fairly quick and simple process. For most of our customers, removing a swimming pool net takes about 10 minutes and replacing it takes around 15 minutes. For smaller water areas such as spas, this time is even less, with most people only taking as long as 5 minutes to remove and 7 minutes to replace. This time will vary depending on your pool's size and shape, along with your access to the anchors. Your local technician will teach you how to remove and replace the safety net for your swimming pool when it is installed.
Get Quote

How Much Does a Pool Net Cost?
Typically, a swimming pool net costs between $1,500 – $2,500 and a safety net for a spa costs between $600 – $1,000. These costs include installation and materials and will vary based on the size of your pool or spa and the net anchors you choose. Customers throughout the U.S. can purchase a pool safety net in tan, dark brown, black, or blue colors.
Because every pool net is custom made, it is not possible to install a safety net for your swimming pool without a trained professional. Installation requires a special drill to place the anchors and for your technician to sew a central tension system in the proper location of the net on-site. Every All-Safe technician has years of experience, some even decades, and are trained to install your pool net quickly and efficiently.
Can A Pool Safety Net Be Installed On Any Pool?
All-Safe can install a swimming pool net for most inground pools, spas, or water features, but some water features located in tough areas can make using pool nets difficult or even dangerous to use. If a side of the pool is inaccessible, installation may not be possible, but your local All-Safe dealer will provide you with other options during your free onsite estimate. All-Safe pool nets come with a limited 5-year manufacturer's warranty.
How Do I Get a Safety Net for My Pool?
The path to a safer swimming pool starts when you connect with a local pool safety professional experienced in installing All-Safe products. They will meet with you on-site, and help you determine the best safety solution for your pool area, with a free estimation of cost. Start by calling an expert today.
Get Quote