Connect with a Pool Safety Professional
Enter your zip code to locate the All-Safe dealer in your area
Enter your zip code to locate the All-Safe dealer in your area
What is a pool fence?
Removable mesh pool fencing is the most popular safety product used for residential swimming pool safety. It can be removed easily, is very versatile and is difficult to climb. There is a layout for almost every pool, spa and water feature.
Removable mesh fences are tensioned based systems that utilize pole spacing every 30 to 36 inches with section lengths approximately 10 to 15 feet long. All-Safe standard fencing is set at 36 inch pole spacing and uses 15 foot Sections. Because we are also a manufacturer, we can offer custom pole spacing and section lengths to suit any request. Fence poles are made of aircraft grade aluminum and the mesh is extremely strong and virtually untearable. Most customers choose to include a self-closing, self-latching, lockable pool gate for added convenience and safety.
Get Quote
Pool Fence
Gallery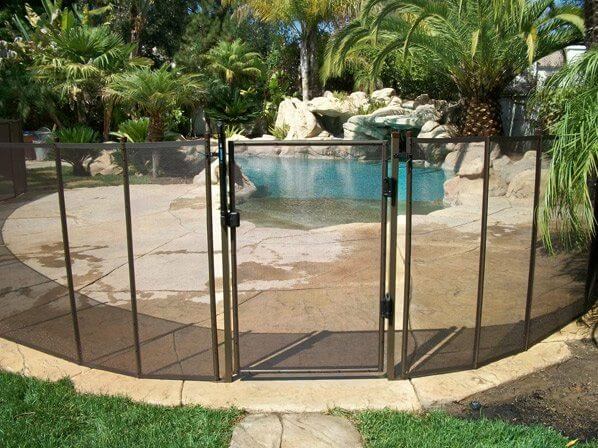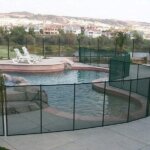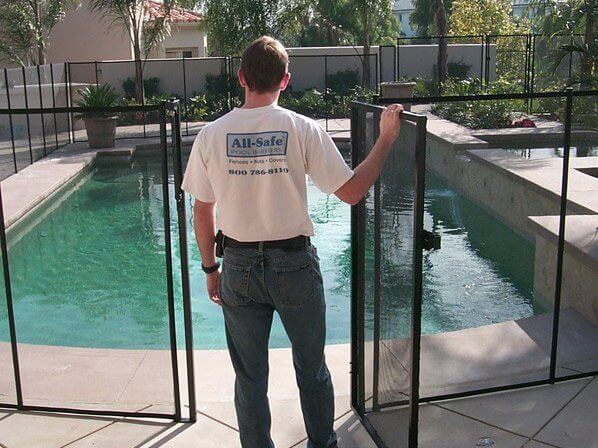 How safe and strong is a pool fence?
All-Safe has been installing mesh pool fencing for over 20 years and has never had a reported accident. The fence tension is what prevents children from being able to remove the fence themselves. Mesh pool fencing is very difficult for children to climb because there are no footholds for their feet.
Removable mesh pool fences
are also used and accepted by most foster care, child adoption, and social services agencies. They are often used to satisfy residential building code requirements for the home pool safety barrier (always check with your local inspector or agency before installing any barrier).
Get Quote
How strong is All-Safe mesh fence?
All-Safe
fences
use the absolute strongest and most tested materials and components in the industry. We offer the 2 strongest poles available when measured by break strength and mesh material that cannot be torn under normal circumstances. Mesh removable fences are not indestructible. If enough force hit a pole at the right point a pole can bend or break. However, because the force needs to be high on the pole and requires a lot of weight and velocity for this to happen, it is not children who ever bend or break poles. The mesh material can be cut with a sharp object such as a knife or scissors. Both the mesh and poles can be repaired if damaged.
All references to breaking strength refer to internal testing that was done as unbiased as possible. It was done at 2.5 feet up the pole (average shoulder height of a 5 year old). The test was performed with an in-line scale using constant/slow tension until poles broke or failed.
Get Quote
Is a removable mesh pool fence easy to use?
Yes! A mesh
pool safety fence
is easy to use and fully removable. Optional deck plugs are available to cover the holes that appear in the deck when the fence is removed. Your fence will roll up for easy storage.
There are several factors that determine how long a fence will take to remove and set back up. The average amount of time to remove or set up a fence is between five and ten minutes for each 15 foot section or gate.
Example: If your fence is 60 feet long with one gate, it should take about 25 – 40 minutes to remove or set up your fence. Due to factors such as terrain and layout, the actual time will vary so please ask your estimator about your specific pool fence layout. Upon completion of your installation, your installation technician will demonstrate how to remove and replace your mesh pool fence.
Get Quote
Why choose a removable mesh fence vs other products?
Removable mesh pool fences are versatile, affordable, durable, convenient and aesthetically pleasing. As a result, removable mesh pool fences are the most popular pool safety product used today for residential pool safety. However, there are many choices for pool safety and every family must make the decision based on their individual situation and budget. Click below to see the other products offered by All-Safe.
Why choose an All-Safe pool fence?
At All-Safe we pride ourselves on proving that not all safety fence companies are the same…
All-Safe fences are manufactured in Orange, California.
All-Safe has been manufacturing and installing fences for more than 25 years.
Our installation & service departments are second to none. We are proud to maintain a 5 star rating on Yelp, Angie's List, Google, and an A+ rating with the BBB.
All-Safe installs ASTM compliant fence material which means that it has been independently tested for safety by an independent ASTM certified laboratory. We use the absolute best materials, the most effective installation processes and the highest quality components.
Components that only All-Safe offers:
Corner Posts – All-Safe corner posts are specifically engineered for turns that are sharper than 45 degrees. The corner post allows us to maintain tension around a corner without the pole bowing over at the top, which is what a normal pole would do. Other companies use a "2 pole solution" or change the layout completely in order to reduce the bowing. This results in more poles bowing awkwardly and a fence that will tend to lack the proper tension in key areas.
Angled Raised Panel – When going over a planter or retainer wall, you need to prevent a child from going on top of the wall or planter and swinging around the lower part of the fence. All-Safe is the only company that offers Angled Raised Panels and Poles that go up to 8 feet in order to block these areas properly. We use our unique Angled Raised Panels to raise the fence to the proper height. These angled raised panels offer a softer, more attractive look, while securing the area better than any company in the pool fence industry.
Rectangular and Round Terminating Post – In order for a mesh pool fence to terminate, it must attach to something  strong enough to hold the tension of the entire fence line. When a mesh fence stops at a block wall or solid wall of the house, a normal wall attachment will work fine. However, when a fence stops at a glass, vinyl, wood or wrought iron fence, or really anywhere that a wall attachment cannot be used, then what do you do? All-Safe has engineered and manufactured two poles for this specific challenge. Rectangular posts are used when we cannot attach the fence to a wall that ends in concrete or pavers. The round terminating post is used when the fence terminates in dirt or grass, without anything to attach to.
The bottom line … at All-Safe we take pride in offering real tangible differences, not "talking points", unproven claims or gimmicks. All-Safe has professionally engineered the best components, the strongest poles and the highest quality materials to make sure your fence is the safest and best looking fence in the industry. Our reputation is second to none proven by our online reviews, testimonials, and referral from both customers and professionals within the industry. In addition, All-Safe has manufactured and installed removable mesh fences for over 25 years and we take pride in using the absolute best practices in the industry. We train our installers to use proper spacing, correct angles, ideal components and effective layouts to ensure your fence will look and function in the best way it possibly can.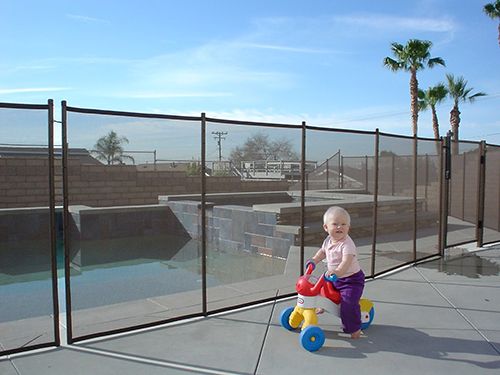 How much does a pool fence cost?
The average cost for a pool fence is $1,500 – $2,500 which includes installation and materials. A common misconception is that the price is based solely on how many linear feet of fence is needed. The length is just one of many factors that we have to consider when determining pricing. Other factors include height, quantity of gates, the type of surface that is being installed into (pavers, dirt, grass add cost), if the surface is sloped or flat, the layout and the components needed to achieve proper installation.
A free, on-site estimate, with your local independent dealer of All-Safe fencing, is the best way to determine your actual cost. Click here to find your local independent All-Safe dealer.
Get Quote
How do I purchase a pool safety fence?
The first step is to get in contact with your local independent All-Safe dealer. You can find your local All-Safe dealer by submitting the
Free Quote form
. Your local dealer will schedule a free on-site estimate to help you determine which layout and options are best for you. The goal is to provide the maximum amount of safety and the best looking fence possible.
Get Quote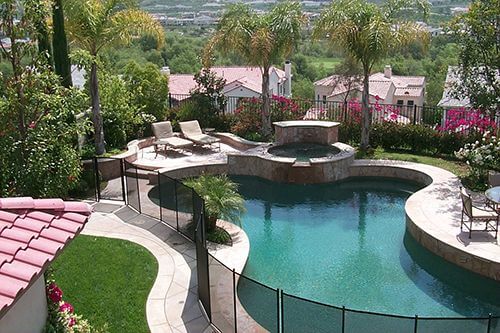 What can I expect on the day of installation?
On the day of your installation, your installer will confirm your desired layout. After you have approved the final layout, the installation process will begin with drilling the holes, inserting the sleeves, and customizing the fence. When the installation is complete your installer will demonstrate how to remove and replace the fence, as well as how to adjust the gate. Most installations are completed within 1 day. More complicated fences, with more footage, can take 1-2 days to install.
Get Quote
What are my color choices?
Every customer will have different opinions as to what color will look best with their home. For this reason, All-Safe offers the largest variety of colors and styles resulting in the most customizable fences in the industry. You color choices include Black, Brown, Tan & Green. As a manufacturer, we can create a variety of custom color combinations for an additional cost.
Get Quote
Does the fence include a gate?
Although it is not required, most families choose to include a self-closing, self-latching, key-lockable gate with their fence installation. Pool gates allow you to conveniently walk in and out your pool area without needing to pull out poles and undo the fence line. The gate will self-close and latch (when properly tensioned) and includes a key-lockable latch.
If you choose not to include a self-closing, self-latching, lockable gate, then an opening can be made, at your request, anywhere along the fence. This opening is referred to as a "manual opening". Due to the natural tension of the fence, manual openings can be difficult for some customers to unlatch. In order to assist in opening and releasing this tension, All-Safe EZ-Close handles are a unique component that can be added on during installation or at a later date.
Get Quote
Are there other types of fencing?
Removable mesh
pool fencing
is the only fence that was specifically made for pool safety and is widely considered the safest fence option for residential pools.
Some of the other fences that are used are:
Wrought Iron – In the 1990's, wrought iron fences were a commonly used for pool safety. Today, due to the popularity of mesh fencing, wrought iron is not nearly as popular. Wrought iron is comprised of iron slats spaced about 4 inches apart. The slats can be used by a child to brace their feet on, allowing them to climb the fence. Iron fences are typically not removable, require painting every few years and usually rust over time. Due to the slats and the overall bulkiness of an iron fence, most people agree that mesh fencing is better looking for a back yard with a pool. The typical cost for wrought iron is two to four times the cost of mesh fencing.
Chain Link – Chain link is not commonly used for pool safety. Although better than nothing, chain link is very climbable as the diamond shaped holes in the fence act as a ladder allowing a child to get over the top. Chain link is not removable and is very obtrusive to the view of the pool area. The typical cost of a chain link fence is one and a half to two times the cost of mesh fencing.
Vinyl or wood fence – Vinyl or wood fencing will block most, or all, of the view of your pool area. If the slats are spaced to provide some view of the pool, it can also be climbable as children could use the slats to brace their. If there is no space between the boards, there would be no view of the pool which is also a safety concern. The typical cost of wood and vinyl fences is one and a half to five times the price of mesh pool fencing.
Glass fence – A glass fence can be beautiful in a pool area. However they are expensive, not versatile, not removable and very difficult to keep clean. The typical cost of a glass fence is 5x – 25x the cost of a mesh fence.
Can I install the fence myself?
The installation of a mesh pool fence is not as easy as it may appear. It is important that your installer has a thorough knowledge of drilling holes, customizing sections and choosing the proper components. It requires experience, training and patience to achieve a proper installation. For the reasons mentioned, we highly recommend that you hire a professionally trained installer.
Get Quote
Warranty – Coverage
Most styles of All-Safe fencing come with a Lifetime Warranty. Contact us for more details.
Get Quote