Having a swimming pool in your home is a source of joy. You get the opportunity to swim whenever you feel like. If you are the kind who likes staying fit, you will delight in the chance to swim every morning to maintain your fitness levels. There is also something fun about a pool. It gets the family together on a warm day as they have a good time. That being said, pool safety barriers are very important.
If you have a swimming pool, you are likely to relish the opportunity to invite friends for a pool party. Having a pool may however pose some danger especially if you have young children. It is important to secure the pool area to prevent any chance of an accident. There are a number of pool barrier security measures that you need to consider and we explore the different options in this post.
Having a fence around a pool is one of the most effective ways of securing your pool. There are a number of different pool fences to choose from and your decision will be based on your personal preferences. When making your purchase, you need to ensure that the fence is strong and high enough to stop the children from accessing the fence unless you have authorized them.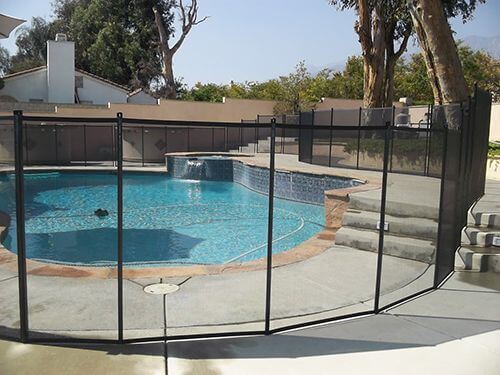 One of the best pool fences you can get is the removable mesh pool fencing. The beauty of this pool fence is that the mesh is transparent allowing you to clearly see the pool area. The mesh material makes it difficult to climb over the fence, so you will not have to worry about your kids sneaking and getting into the pool. It is also recommended to include a self-closing, self-latching, lockable pool gate for added convenience and safety
Pool Net
A pool net is another great way of securing your pool. This method includes placing a net over pool and stretching it by fastening to hooks on the poolside. Once the net is fastened, it secures the pool and if a child were to go to the pool area, they would be held above the water by the strong net. This type of pool barrier is desirable because it is strong, safe and secure. In addition, it leaves you with an unobstructed view of the pool. Another advantage of this type of pool barrier is that because the net is lightweight, you can secure the pool without assistance.
Pool Cover
If you wish to completely cover your pool after use, then pool covers are a good option. The beauty of this option is that you can choose to use an automatic pool cover. This type of cover is installed on two parallel rails that allow the cover to slide above the water after you are through with the pool. This method of securing the pool is desirable because it is simple to use; prevents evaporation and it is strong enough to hold the weight of a baby. Another option is the mesh pool cover, which is equally effective and more flexible because it can be designed to fit a pool of any shape and size. It also keeps leaves and debris out and is a safe option as well.
If you are considering a pool safety barriers, contact a reputable pool safety manufacturer such as All-Safe Pool Fence & Covers (www.AllSafePool.com) for a free estimate.