All-Safe Pool Fences Are Among The Top Ranked Pool Fences and Pool Safety Devices. When customers are searching for pool accessories such as pool fences or covers, they prefer to work with a firm that is an embodiment of reliability. All-Safe Pool Fence & Covers is one such firm that has spearheaded the adoption of efficient approaches to managing pools and providing safety alternatives to pool owners. Its commitment to high quality service has also warmed All-Safe into the hearts of many homeowners who would readily vouch for the firm's products. Below is a breakdown of the firm's history and its value proposition to customers.
Why Buy A Pool Fence From All-Safe Pool Fences?
1.) The history of All-Safe Pool Fence & Covers
All-Safe is a family owned business employing roughly 40 staffers. The firm is steeped in rich history spanning over forty years. Its formative years included the provision of solar pool heating solutions in the 70's.
All-Safe was created in 1992 upon the realization of the need to create safer pool environments. The initial safety accessories that the firm offered included pool fences that were removable as well as pool gates. However, changing customer preferences, and the need to provide a customized solution meant adopting new types of fence installations. Consequently, All-Safe started offering tailored and innovative safety solutions to pool owners. In so doing, they expanded their product offerings with pool safety covers and pool nets.
Currently, the company manufactures and installs All-Safe pool fences and covers across the nation. The firm is headquartered in Orange, CA and partners with independent dealers nationwide to provide localized pool safety solutions.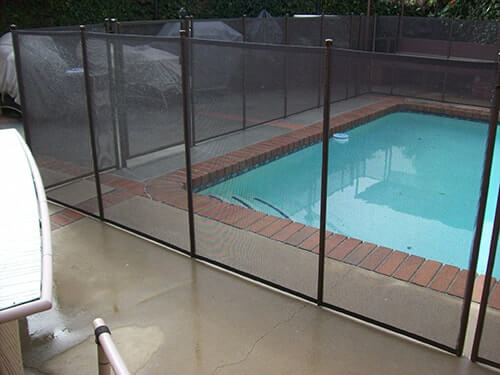 2. Why should you choose an AllSafe Pool Fence?
All safe features a unique mesh pool fence that offers ultimate safety. In fact, over a 20-year plus history, there has been no reported incident or accident involving AllSafes pool fences. The firm's experience in the manufacturing and installation of pool fences makes it a trustworthy brand.
Additionally, the firm's fences are tested and proven. They exhibit immense breaking strength based on independent tests. Further, pool fences from AllSafe Pool Fences are 100% U.S. made, guaranteeing customers of robustness and high quality. In fact, All-Safe's 5-star customer ratings on Yelp attest to its standout products.
Since AllSafe Pool Fences manufacturers its own pool fence products, All-Safe also offers customized solutions to suit its customers' needs. This assures buyers of convenient products, safety and reliability.
3. Why a pool fence is an effective pool safety product
High tension pool fences act as a deterrent to young children and limit the risk of them removing the fence. AllSafe's pool fences do not offer supports that children can climb over, thereby keeping them from making their way into the pool area unsupervised. The pool fences are made of sturdy build quality and features self-closing doors. Most foster care, child adoption, and social services utilize removable mesh pool fences for pool safety in a home where a child is being placed.
4. AllSafe pool fences are ASTM compliant
ASTM is an abbreviation for the American Society for Testing Materials, an association that provides guidelines and specification requirements for pool covers and fencing materials. The guidelines provide a benchmark for gauging the quality and performance of pool fencing materials. By being compliant to the ASTM, AllSafe Pool Fence & Covers assures its customers the longevity of their pool fences.
All-Safe is a first-rate company that possesses immense expertise, professionalism, and adherence to industry standards with its pool safety barrier products. Homeowners can be assured that they would receive a quality product and service from a local entity with a proven track record that spans several years.